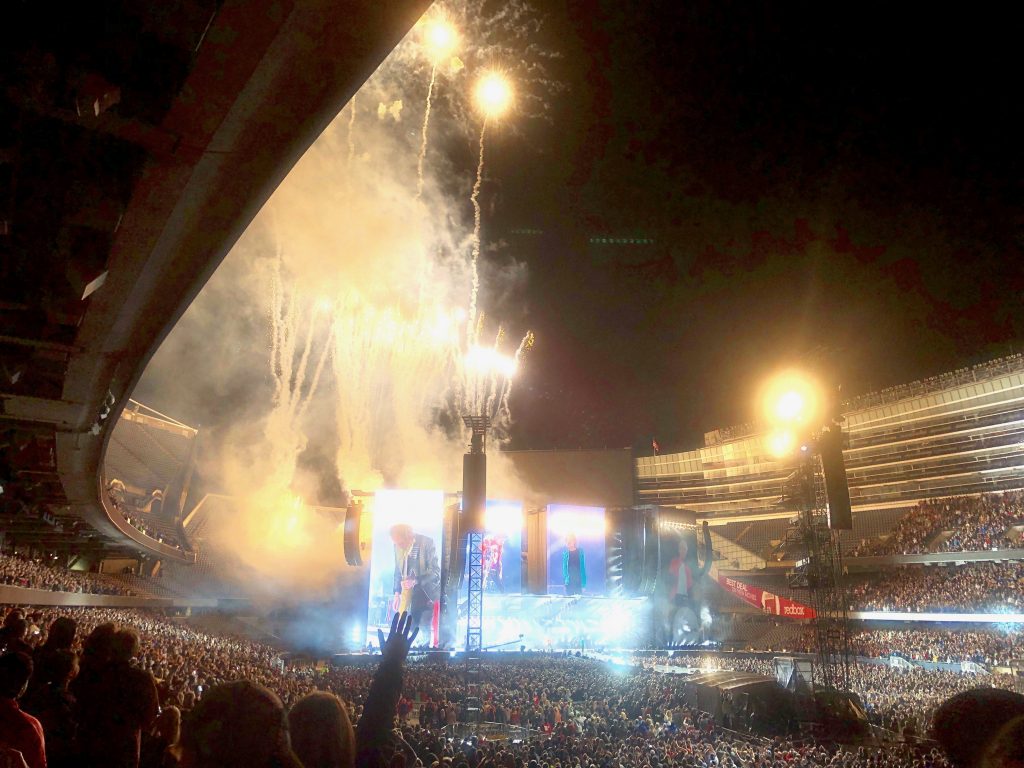 When you get to be my age, or somewhere thereabout, you tend to question where you are. This holds particularly true if you've left the house to get there. And in rare instances, you actually get an answer. Such was my circumstance last Friday night, 2,129 miles from home, when Keith Richards took center stage at Chicago's Soldier Field and played "You Got The Silver."
I hadn't given much thought to signing up to see the Stones play; it was something to do in Chicago besides Gibson's steakhouse and Wrigley Field. The only way to do a 'stadium show' at my age is to not think about it. So it barely registered when Mick Jagger's heart valve operation was scheduled for April. The show was off, sure, but such things happen with a 75 year-old man. My interest did peak a few weeks later, seeing Mick up, about and dancing around his studio, announcing that the tour was back on as planned. Good genes, a life-long workout regimen, and keeping your fighting weight at eighty pounds still goes a long way. But I ("ME" with John C. Spears emphasis) still had to get there. Give a man a purpose and he's good to go at any age .. this explained Jagger's prance, apparently invincible ticker, and unwavering summer plans. But he had a date with 61,000 where I had one with American Airlines, post shoe-bomber security and numerous Uber drivers.
To be fair, I was staying at the Four Seasons, and as with most other circumstances in my life, had nothing to bitch about. But as Bill Wyman once said, hell is other people, and most of them were heading for Soldier Field last Friday night. I'd seen the Stones play twice before — in 2002 and 1981 — and remembered from the later date that they'd grown into these large-scale performances, making fine use of advances in big screen technology and sound. There's never been any debate with me over who's the World's Greatest Rock n Roll band. I've always maintained severe indifference for the Beatles despite being isolated in this opinion. "I Am The Walrus" and "Dear Prudence" never cut it for me. And one fact stands unchallenged: a 'band' has to stick and play together. Jagger, Watts and Richards have been doing this for longer than I've been alive.
So yeah, cut to the chase, I was there standing among the multitudes as the lights went down and music went up. They were more than good and locked in and strong in vocals and chops. And Charlie Watts — Charlie friggin' Watts — was keeping that same solid back beat at 78 years of age, looking relaxed and fit and healthy and offering bemused grins for his noodle-limbed singer covering the massive stage like he was 30. Then it was Keith's turn.
Keith Richards loves the blues .. this is undisputed fact. And he picked the right music to love as his fingers gnarled and the crevices in his face deepened to Arizona Tourism Board proportion. Where it's hard to maintain that Springsteen faux earnestness as years rocket by, simple chords and simple music can actually age well. At least it's been true for Keith, whose version of Jagger's daily workouts and health regimen seems to have been heroin, cigarettes and falling out of coconut trees. And that's when it hit me at Soldier Field, listening to the thunderous applause as he approached the spotlight in subdued fashion. Yeah, I've seen my share of age and death in recent years, but he's still here and I'm here to see him. On opening night. In Chicago.
All that was necessary were those two-fingered open chords, Keith's voice, and the heart of someone loving what he does. Oh, and a little slide guitar from Ronnie Wood, who seems to have a line not only on the good drugs at 72, but the good Minoxidil. They did it again. It wasn't just some superficial gesture, dragging my ass out there to watch them play. It was an excellent show and one I'll be forever glad for having attended. Coo coo ca choo.