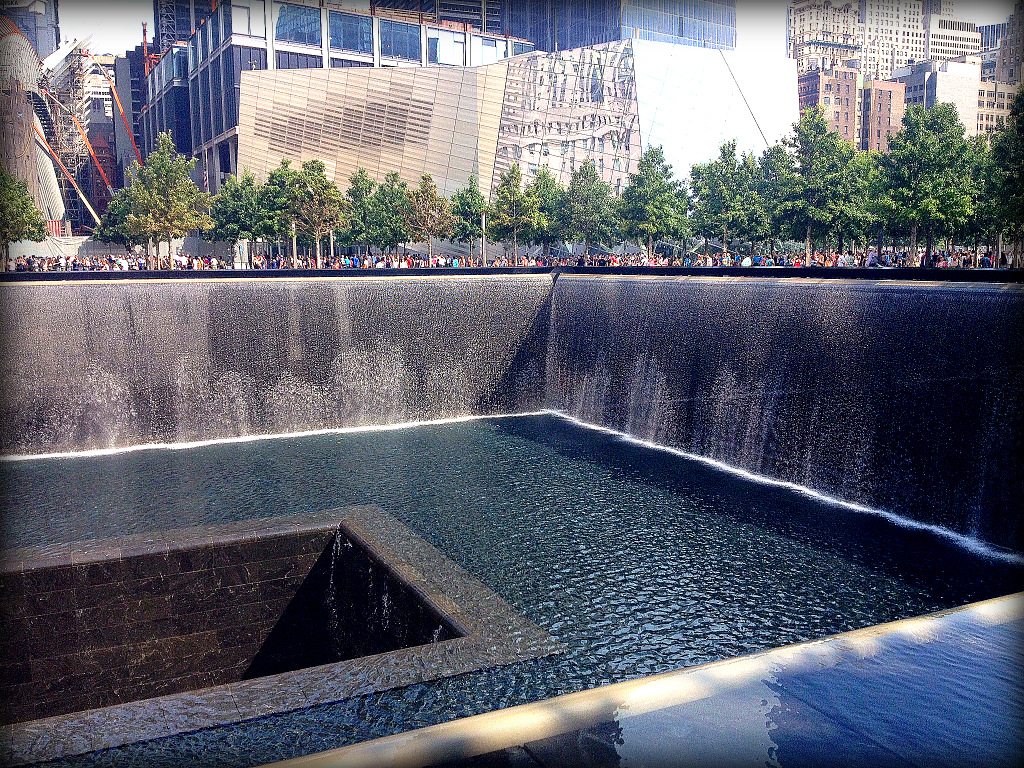 I'm on the F train again, Tuesday, on my way up to the 42nd Street Library. Bergen, York, Delancey – things are running smoothly when a neatly dressed thirty year-old woman steps on at Second Avenue barking out the dreaded and familiar "Good afternoon ladies and gentleman .." It's standard intro for a money pitch, yet there's little standard about her. She looks neither typically homeless nor crazy and speaks in even, measured sentences. She wears an unwrinkled white cotton dress with flats. When she gets to the part about being a domestic abuse victim she hold up pictures – actual photographs – of her face and arms after the hospital visit. There's little emotion to her performance; it's almost as if she's teaching a class on delivering a sad story and focusing exclusively on content. Nobody looks up when she's done and there are no contributions. I excuse myself from this potential bit of shame having only two twenties in my wallet .. but the truth is I never give in these instances. You pick your charitable moments in New York and adhere to the plan. "Homeless volunteer," she observes, reading the writing on an older black man's plastic wrist bracelet. "God bless you sir."
It's hot on the fifth day of August and Bryant Park is loaded with early lunchers, practice putters, and green chair sitters. A woman hogs the microphone at an outdoor author's reading while the writer sits politely, waiting for her to finish. I maneuver past to the library building, in the West 42nd entrance and up the old elevator, only to discover that the third floor Main Reading Room is closed six months for repair. Apparently a chunk of ornate plaster fell from the fifty-two foot ceiling in May rendering the grand public space uninhabitable until declared safe.  I sit on a solid marble bench just outside, mulling alternatives while three young German tourists next to me appear to do the same. Back in the park I watch an older woman play a game with a Chinese guy, throwing oblong wooden blocks at other carefully balanced oblong blocks, attempting to knock them over. She keeps missing the target with the chunk of wood and bouncing it over to the adjacent putting surface, pointedly interrupting the three business guys with tucked ties practicing their short game. The Chinese guy retrieves the wood without apology and the cycle continues.
I resolve to walk the six miles back to Brooklyn. Motion as purpose – a decent practical alternative to plans gang aft agley by way of falling plaster. It's two in the afternoon with sun smacking pavement but I've got sunblock in my pack and tread on my loafers. I pop on my shades and join the sea of those with somewhere to go. Beautiful young women in the flimsiest summer fashion unconcerned with limitations of the flesh. Street meat vendors hawking plastic bottles of ice cold water for a buck a pop – likely the greatest bargain going on such a day. A guy down on his luck against the shady side of a building around 30th with a cardboard sign and beggars cup wearing a shirt that says "Fuck You, You Fucking Fuck." (Might have been my pick for a charitable donation had I made change for either twenty yet.) I cut through the park at Union Square where 'NBA Nation' has set up a 'mobile basketball experience' featuring the 'Sprite Slam Dunk Showdown' and 'Sprint Ultimate Shot.' I watch the slam-dunkers for a few minutes, sympathizing with a guy who can't get it over the rim as his allotted time runs out. A giant plywood cutout of the Clipper's Blake Griffin complete with measuring markers confirms that I'm indeed a whole foot shorter than him. At the other end of the park I buy a bottle of 'Smart Water' at a bodega, hoping it will help me feel less stupid for paying a buck-fifty more than it costs uptown from one of the chicken kabab guys.
Near Chinatown on Bowery I pass an entire block of lighting stores in an area inhabited almost exclusively by restaurant supply outlets. I wonder to myself what makes one loyal customer choose "New York Lighting" over "New Generation Lighting" with their almost indistinguishable storefronts. And why are they all gathered here on this one small lower Manhattan strip? It must represent the highest per capita Con Edison bill in the state. Lighting outlets become furniture outlets then stainless steel kitchen supply outlets until everything becomes diamonds and Chinese food.  I wander slightly west in the direction of the Thurgood Marshall Courthouse via an area eerily devoid of traffic and punctuated with solid blocks of road-blocking cement and NYPD checkpoints. A lone bicycle delivery kid wolf-whistles at a Puerto Rican girl in hot pants and in the not-so-great distance the new One World Trade Center building stands, reflecting the sun off its great, angular surface. I head in that direction.
I spent a lot of time in the vicinity of the World Trade Center grounds after first arriving in New York, but it's been a while. There was something spectacularly disjointed about it back then; technically part of Manhattan but more like a vast yet cramped space peppered with historic churches and graveyards, strip clubs and pizza joints. The buildings were draped in familiar orange netting, some being erected and others dismantled and there were lots of cops around. The netting and scaffolding is mostly gone now but I still get a disjointed post apocalyptic sense coming from somewhere amidst the throng of tourists making their way around the PATH station in a sort of human rat maze toward the memorial grounds. A construction worker in hard hat encourages "Not much further now, folks .." I turn a corner with the pack, walk another half block or so, and come upon the giant pool; a massive inverted fountain of black granite gushing far below and cascading to another recessed area in the center. There's a feeling of grand displacement, as advertised, with the pool covering nearly an acre of solid city ground, but I don't get the sense of 'flowing tears' from these thousands of gallons of pouring water. Instead it's something bigger and more spectacular that drowns out the tourist chatter and guys in blue tour guide shirts letting the group know "here it is, folks .." as though they might have missed it without some help. Something seems slightly off-kilter about the scene; the crowds aligning the perimeter with cell cameras raised, a withering flower placed in the cut-out metal lettering of one of the thousands of names framing the voluminous mass of liquid. I pull back, a bit disoriented, and pass a mother checking her baby's diaper. As I attempt to leave the grounds I stumble upon the first pool's twin and am, for a moment, blown away. Sure I'd read about the site and knew there were two of them but not having planned the visit had forgotten. And there it is, this massive duplicate and aftershock of the initial experience. Despite the less than entirely solemn nature of the whole experience I feel moved in some way. I get it. A job well done.
I edge past another tour group making their way from the opposite direction on Greenwich Street and stopped in front of the bronze bas-relief Firemens' Memorial wall sculpture. Shaking the crowd I pull into O'Hara's Pub for a cold, three dollar Coors Light draft and to let the air conditioning dry my white cotton t-shirt. Another trio of Germans enter and take the end stools with one doing the talking in English, asking for three 'large' Guinness' and handing the barmaid a hundred dollar bill. She muses "large Guinness .." under her breath while tapping the beer in front of me and asks if I'd like another. I accept and consider the odd dichotomy of Coors Light, how a beer that typically tastes so awful can taste so good on a hot day. A regular pulls up to the seat next to me and makes familiar small-talk with a guy who looks to be the owner, having returned from a day surfing on Long Island. Above the bar are patches from different fire departments around the world. I finish, leave a tip, and make my way out to traverse a bit more concrete and then the long expanse of the Brooklyn Bridge, back to the borough. A bit more rubber off my soles and another day done in New York City.