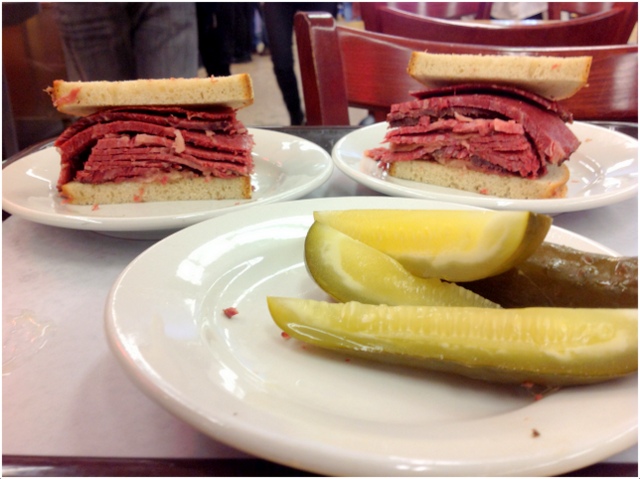 My long-standing Scottish friend Denis Munro was in town last week, completing the final leg of an Atlantic cruise with a short stint in Manhattan. Denis isn't what you'd call a "man of excess." His rule of thumb for both food and language is the same: keep it simple. 'Exotic cuisine' includes anything with salt or more than two colors. He rejects any added dressing or condiment as suspicious. Trying to put it democratically he explained "to me sauces are a bit like children; I quite understand that other people want them, but I don't see the point." Some might expect such dietary restrictions to hamper one's enjoyment of life, but Denis proves otherwise. Once he determined that 'oatmeal' was the same thing as 'porridge,' it was smooth sailing to New York.  He met a gaggle of Mexican chiquitas on the ship and quickly charmed them with his Sean Connery accent, stumbling only slightly when they suggested dinner at an on-board sushi restaurant called Raw Food.
Luckily, Denis fits my description of an ideal visitor. I have neither time nor taste for most 'must-see' restaurants in New York or anywhere else. I love to eat but would just as soon do so amid a pack of well-behaved schmucks instead of rubbing elbows with Beyoncé or Bruce Willis. I think it's largely a female-propagated phenomenon, this idea of favoring exclusive eateries with long waiting lists and celebrity clientele. I don't get eating somewhere to be seen. If I'm at a Lakers game and Jack Nicholson is sitting three rows in front of me, that's something. But paying a premium to see him fork his vegetables at a nearby table doesn't make my food taste any better. Most women leave half their meal on the plate at these restaurants anyway. But I've gotten off-topic .. back to Denis. We did end up at one exotic bistro, at least by his definition: Katz's Delicatessen. It was by his request though; he wanted to see the place where 'Meg Ryan faked it with Billy Crystal' in the movie. This was probably my fifth time in the famed Lower East Side establishment, enough to know the routine of securing a ticket at the entrance and having it marked off as you order. We kept it simple, splitting a corned beef sandwich on rye. Our carver asked how I wanted it and I requested mostly lean. There was a perceptibly relieved expression on Denis's face when he tasted the sample and found it suitably palatable. It was a proud moment upon completing his unadorned, half-sandwich and he emailed a before-meal photo of the plate to all his friends.
Denis doesn't drink either, yet he was perfectly comfortable sipping a sparkling water as I tipped a pint of Stella in various local bars. We even ate a meal one night – Denis a salad and I spring rolls – in a typical Irish tavern south of 14th Street.  As we sat on a couch directly under a huge TV projecting the Rangers playoff hockey game, he explained how his 'Aunty High Street' back in Perth would take him to the hockey matches and poke the referees with her hat pin if displeased with the officiating. The noise level in the bar increased as the game wore on, but when I asked Denis if he wanted to leave he requested staying until the end to see who won. The evening ended well with a Rangers victory followed by a young dude from the bar chasing after us on the street to return Denis's hotel umbrella and saving him a $75 charge.
We covered the city and Brooklyn on foot most of the time he was here. I'm a firm believer that, if you're able, this is the only way to see New York. It comes at you by the minute in faces, body types, and conversational snippets. I was very attuned to this when I first arrived but these days it takes a visitor to bring it back to the forefront. We walked the High Line on his last full day in the city, an elevated west side railway line turned in to a lush, linear park. My feet were sore from the miles we'd covered but Denis didn't complain. The sun was setting on the Hudson River and he got some good shots with the camera in his trusty, treasured iPad. It was a brief visit and we didn't fit in everything I'd planned, but in the end its success could be marked by the soles of our shoes. Denis seemed satisfied with his stay, and particularly a follow-up email that he received from one of cruise line señoritas urging that he keep in touch. I'm with her – garlic phobia not withstanding, he's welcome back any time.