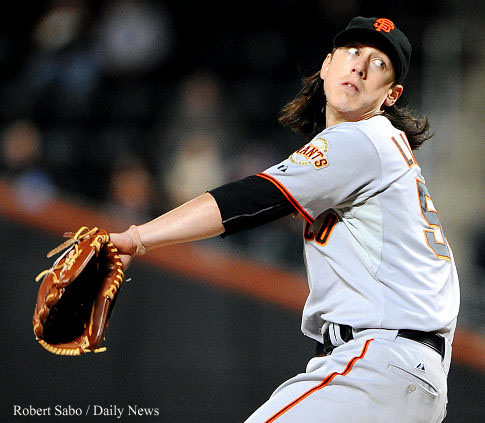 Tim Lincecum and the Giants were in town last week, facing the Mets for a three game series and serving reminder that we don't always need dead, middle-aged terrorists to make us feel good about this country. Lincecum, as my vast reading audience will attest, is a favorite subject of mine. He rekindled my interest in baseball back in 2007, shortly before he emerged from a remarkably brief stint in the minors to start pitching for the Giants. As a favorite local Mets blogger recently noted, "Lincecum was so good so quickly that nobody had a chance to fuck him up, and now he sits atop the pitching mountain, walking on his hands before games and not bothering to ice his arm after starts, happily out of reach of the ligament-shredding groupthink that Organized Baseball calls wisdom." I thought this was a solid observation, but for me he's meant something more.
That Lincecum was too good, too fast to enable being ruined by conventional wisdom speaks to the game as much as it does the athlete. Were this football or basketball, the window of opportunity would never have been there. The crawlspace is ever-narrowing for baseball too, and it isn't immune to checklists of physical stature and rigid methodology, but within its framework there always remains a chance. And a chance is the most any of us can expect. Knee-jerk comparisons between America and baseball pander to the grandiose and nostalgic, noting that it's a game of heart where ambition and determination can triumph over adversity. I prefer to think that the rules for both were constructed by people who knew a thing or two about how messed up things can get over the long haul. While it isn't as sexy-sounding as the "pursuit of excellence," allowing for and anticipating the idiots who will inevitably and eventually run the show is a lot like putting a new roof on your house every ten years. It comes in handy with time.
But back to The Kid, as I and my buddy Miller (a Cubs fan living in Chicago) call him. While his defying convention allows for more intriguing argument among enthusiasts and fosters a new strain of delusional hope for dads with undersized pee wee leaguers, this is secondary. Sure, his delivery inspires Koufax comparisons and caused Roger Angell to liken him to a "January commuter stepping over six feet of slush." But what he's really done, particularly in the case of the Giants, is to bring fun back to the game. He arrived, all five-eleven in spikes and a buck sixty-five of him, on the heels of the Steroid Era where behemoths like Bonds and McGwire roamed the grass. By the time Lincecum emerged the fates of his super-sized predecessors were starting to take shape, controlled largely by senatorial hearings and men who had never played the game on any competitive level. In short, the long-ball diversion that replaced the bad taste left by the bullshit Strike of '94 had turned in to so much bullshit itself. And it was getting worse by the day.
Enter our man Big Time Timmy-Jim as he's called in some circles, along with the "Freak" and "Franchise." He was mistaken for a batboy on more than one occasion when he first came up, and asked for ID at various ballparks to prove he was a player. But stadium officials weren't the only ones taking notice. Lincecum remained in the minors for only one month of the '07 season, long enough for Rockies prospect Ian Stewart to note "He's the toughest pitcher I've ever faced. I'm not really sure why he's down here, but for a guy drafted last year .. that guy is filthy." The sentiment only solidified with time, and as everyone knows The Kid went on to win Cy Young awards in his first two full major league seasons and led the Giants to their first San Francisco World Series title in 2010. Anyone doubting Ian Stewart's eye for talent need only reference Lincecum's 14 strikeout playoff debut vs Atlanta. These were, after all, major league ballplayers he was facing.
Lincecum has grown his hair out since his rookie season and his appearance is often likened to a "skater kid" (as in skateboarder.) He's also packed a few much-needed pounds on to his slender frame, apparently (and to the chagrin of teammate Pablo Sandoval) through a steady diet of milkshakes and In-N-Out burgers. Low-key and somewhat shy, he still seems at ease with the attention his quirky style and success have attracted, and has a natural appeal in commercial spots and feature articles. Nowhere is the phenomenon of celebrity amplified quite like here in New York, and it was interesting to see the treatment he got while the team was in town last week. Two-page photo spreads covered the inside of the Post and Daily News, and the Mets post game broadcast dedicated a solid hour to Lincecum talk. His performance in the second game was fairly standard: 12 strikeouts including the last five batters he faced for a 2-0 win. I was at the game the next day, watching him through binoculars as he sat wearing a hoodie and shades, chatting with teammates on the edge of the dugout. Seemingly unaware or unaffected by how good he is this early in his career, he just looked to be having fun.